You are here
Bio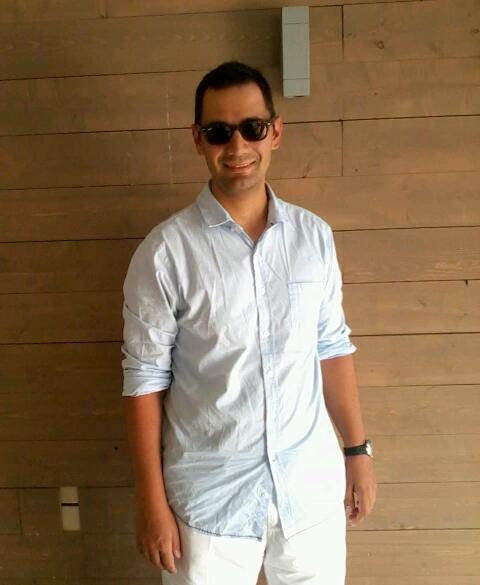 This is the personal webpage of Konstantinos Boukouvalas.
General Information
He was born in Thessaloniki in 1984. He lives in Thermi, at Lioyerma neighbourhood and from time to time, he had lived at Depot (Thessaloniki-Kalamaria border neighbourhood), Athens, Milan and Xanthi.
He is chemist, international freight forwarder, Free Software Supporter and reserve 2nd lieutenant.
Education and scientific activity

Graduate of "Apostle Paul" educational establishment and graduate of Aristotle University of Thessaloniki Chemistry Department.

In 2003 he attended the Summer School on Physics of Advanced Materials in the context of the Socrates / Erasmus programme and participated in the essay:
Magnetic nanostructures: Growth, characterization, perspectives
Konstantinos Simeonidis1 and Konstantinos Boukouvalas2
1Physics Department, Aristotle University of Thesssaloniki
2Chemistry Department, Aristotle University of Thesssaloniki
Foreign languages: English, French
Professional life
He worked previously in the international freight forwarding family business All Cargo Company, which in 2006 he undertook and renamed in 2008 as Onitas Hellas in the context of twinning with the Turkish company Onitaş Lojistik. Today he is working for these two companies.
He has been support personnel at IT Center of Aristotle University of Thessaloniki, where among other things, he designed and documented the network monitoring program Nagios according to university needs.
In the context of his occupation with computer science and free software he was editor at Linux Format and Linux Inside magazines while through GREEKLUG he is voluntarily involved with the representation of Greece to Linux Professional Institute, an international certification organisation for GNU/Linux operating system.
Since September 2013 he is a partner at volunteers group of Google Developers Group Thessaloniki.
Activities with computer science and Free Software
He participates regurarly in conferences and computer exhibitions, especially those which concern Free Software. Some of these are:
Participating:
2003, Thessaloniki: 9th Infosystem Computer Applications Conference
2004, 2006, Thessaloniki: 18th & 20th Infosystem Exhibition with Hellenic Linux Users Group
2006, Athens: CiscoExpo 2006
2007, Athens: dte 2007 with Hellenic Linux Users Group

Organiser:
2007, Thessaloniki: 1st Thessaloniki Biennale with Hellenic Linux Users Group
2010, Pilea: Richard Stallman Speech – Free Software Foundation President with GREEKLUG
Speaker:
2010, 2013, Thessaloniki & Athens: 3rd & 6th Fosscomm Open Source Communities Summit
2013, Thessaloniki: openSUSE Conference 2013
2013, Munich: Linux Professional Institute EMEA Meeting
as Linux Professional Institute Operations Manager for Greece

Results

During his work with Free Software:
As Treasurer of Hellenic Linux Users Group, through coordinated actions with the rest of the Board, he presented increase revenue 100% for the year 2006-2007.
As member of Thessaloniki Linux community, he tried since 2006 to find meeting place, which finally found after a member kind offer in December 2007. He organised and operated this space in an old appartment building at Ptolemeon 7 address, starting summer of 2008 to fall of 2009.
In 2009 he contributed decisively to the creation of GREEKLUG, he promoted the cooperation with Free Software Foundation, Free Software Foundation Europe, Linux Professional Institute and other international Free Software organisations.
Since 2010 as LPI Operations Manager for Greece he contributed to the development of certification exams in Linux with positive side effect the increased revenues of GREEKLUG which became LPI Master Affiliate for Greece and since September 2013 upgraded as LPI Master Affiliate for Western Balkans.
As freight forwarder:
In 2006 he twinned the family business with the freight forwarding and special exhibition deliveries (fair organizing) Turkish company Onitaş Lojistik. The crisis did not leave much room for profit during the years 2008-2012 and thus Onitas Hellas shrank. From 2013 after the end of his military service and more active involvement with the company, the latter showed a relative increase in revenue compared to 2012 (2009 levels). In March 2014 he visited as part of exhibition deliveries business the exhibitions Paris expo Porte de Versailles and Paris Nord Villepinte.
As reserve officer:
As Candidate Reserve Officer he was Chief Sergeant - Scribe of C.R.O Squadron, and during his service as Reserve Officer Cadet he acquired the specialty of Leopard 2 Medium Tank Crew Commander. He participated to all planned military drills.
As chemist:
As chemist he has no results to project.
Political position

His political position is the Centre. Watching shows of Vassilis Leventis at Extra Channel since student time, he was strongly introduced to this political space.
2004-2006: In 2004 he decided to join Union of Centrists. He was a volunteer of the party until 2006 when he stopped, without resigning.
2006-2011: He was active into political groups inside Universities.
2013-2015: He co-signed with Elias Mosialos and other fellow citizens the decleration of Dynamic Greece. At the local elections of May 2014 he was candidate with the umbrella-group of "Citizens Ahead" for the Region of Central Macedonia, leaded by professor of Aristotle University of Thessaloniki, Niovi Pavlidou.
Since January 2015 after the election success of 1,79% that Union of Centrists achieved, he re-activated voluntarily, with final purpose the entrance of the party and Vassilis Leventis into Greek Parliament.
English